Liquid Trap Magnets are engineered to remove ferrous contaminants from liquid and slurry lines. Efficiently remove tramp iron before maintenance and product contamination problems occur. The benefits of this magnetic separator can be experienced in most cases with no appreciable pressure drop or reduction in flow rates. All units incorporate a sump type housing to trap non-ferrous particles. Liquid Traps may be installed horizontally, vertically, or on an angle without affecting their magnetic efficiency.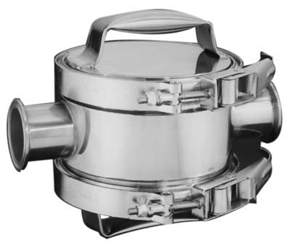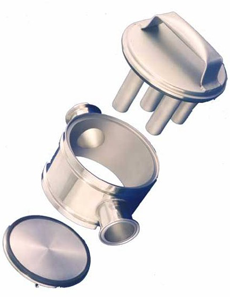 Double Plate Liquid Trap Magnet
These USDA approved (US Department of Agriculture Approved) units are for high volume applications requiring gentle flow characteristics (cottage cheese, fruit preserves, etc). The exploded view shows the product flow is split by the internal baffle and diverted onto two flat plate magnets. Different sized baffles can be provided to match your product's need.
Available in 1" - 4" line sizes with most sanitary connections or in pipe sizes, pipe flanges, camlocks or pipe threads. The body can have different sized connectors if it is desirable to use the Liquid Plate Magnet as a line reducer/expander. Water jackets are optional. Even different sized baffles are not a problem.

*Now available in 6" line sizes with pressures to 75 PSI