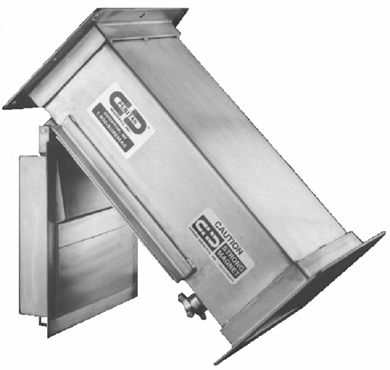 Angled Spout Magnets consist of a Plate Magnet attached to a housing. This allows for simple installation by removing a section of the spouting and replacing with the Angled Spout Magnet. This is especially helpful when installing this type of separator in a round spout.
The Angled Spout Magnet can be provided with round inlet and outlet openings that transition to the rectangular flow thru area where Plate Magnet is attached. The Plate Magnet is hinged, latched, and gasketed for easy access and cleaning. EZ CLEAN and POW-R CLEAN options are available.
POW-R CLEAN™ Angled Spout Magnets
This option is well suited for applications that are hard to access or where employee safety is a concern. A pneumatically assisted cleaning system eliminates the need of an operator to manually open the magnet and clean off any captured metal. As the pneumatic cylinders open the magnet, a stripper plate separates from the magnet allowing captured metal to be safely discarded. A collection tray is also available to catch the discarded metal. The EZ CLEAN option is smaller in design but requires the operator to open the magnet and separate the stripper plate.